Technical lighting fixtures
A line of functional lighting fixtures are organized in a wide variety and luminous flux levels. They exhibit a high degree of modularity to support professional work of architects and lighting designers. They are also easily adjustable to accommodate different purposes and structural state of the building.

Classification of ModuleX lighting
We classify our lighting functions based on human psychology and purpose of the space.
With an application of stage lighting techniques, ModuleX lighting is precisely defined depending on its roles.
FOUNDATION

FOUNDATION beautifully balances the lighting, giving a final touch to the lighting design.
It adjusts an overall balance by making subtle correction to the uneven luminosity on horizontal surfaces.

WALL

WALL is the light emitted on vertical surfaces that enter people's sight the most.
Smooth and beautiful gradation and high diffusibility are required in order to enhance the depth and expanse of the space,

PICK UP

PICK UP is the light that highlights certain objects.
Clear contrast and accurate directional light distribution are required to draw attention to a specific point.
ModuleX's original optical technology
ModuleX continues its pursuit of original optical design development.
In order not to interfere with the details of building and room design, we develop optical control devices that can create highly even and beautiful gradation all by ourselves.
With an aim to control luminous flux emitted from its light source and to optimize energy efficiency, we pay our utmost attention to every details of our products. LED is positioned in the deepest part of our device and the device uses the reflector with optical curves which utilize ModuleX's unique definite integral methods.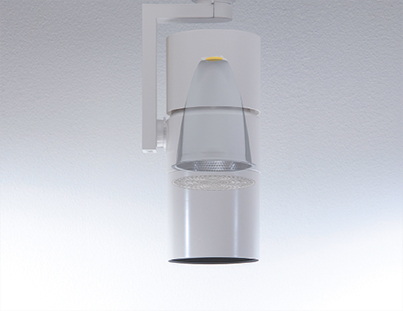 Changeability of ModuleX products
Versatile ModuleX's products accommodate various needs of each case
With "ModuleX Filter lighting" you can change the type of lighting even after the installation is complete. Unlike some diffusion filters that immensely decrease the efficiency of devices or Fresnel lenses that seep out or refract light and change the color of light, our lenses are designed with complex mechanisms and precision. In order to minimize the loss of device's efficiency after setting a filter, we've adopted new materials and technology and have developed ultrathin precision lens filters.
Our product development is aimed to continually evolve standardized platforms. Therefore, we are able to correspond to the changes in atmosphere over a long period time simply by changing lighting equipment while using the same mounting devices.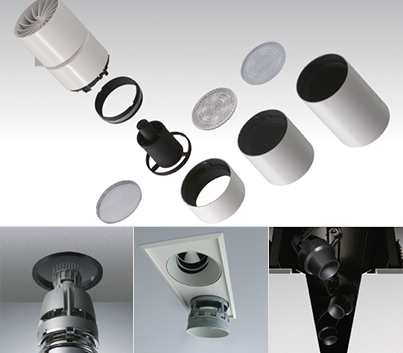 Systemization of lighting – ModuleX's platform development
We systemize a wide variety of detailed lighting functions with simple structure and components.
As if an artist uses different types paint brushes, we would like to have our products utilized to generate delicate lighting presentation. With this in mind, we've systematically classified our lighting according to its function, size and lumen level.
Why do you need thick catalogs listing products in an unorganized manner?
ModuleX's downlight and spotlight equipment are standardized using two basic platform designs of two specific features. Our products are able to accommodate all sorts of light sources such as different LED chips of various companies. We never fail to observe the fundamentals of lighting. Our philosophy is to create products that fit in the buildings and rooms even better over a long period of time.

You can select a variety of lighting effects with a minimal presence of lighting devices.
MUSEUM is a line of ModuleX's flagship products using the finest optical control technique. Both glare control which prevents intervening the details of buildings and atmosphere, and energy efficiency have been realized through our refined reflectors. It also offers diverse effects with the use of filter lighting®.

Unique optical technology ensures the comfort with a small number of lighting devices.
SLEEK is a group of products that are loaded with composite control technology. The technology is used to moderate dark spots to prevent psychological unpleasant feelings with a small number of devices and limited electricity consumption.
Although it is difficult to show in numerical data, SLEEK series downlight products can create smooth gradation which leaves hardly any boundary line within the irradiation range. Their spotlight's illumination point is maintained in the center yet they can gently diffusing light. These are special features of SLEEK.

New lighting methods available because of LED technology
ModuleX GRID Fineliner Wall washer, a combination of unique lighting form and light distribution control technology, has become a viable option thanks to LED technology.
The light diffuses gently from the ceiling to the floor and nicely enhances the depth feelings even in a small space.
You can adjust the light distribution and light spectrum that connect people to their environment.
ModuleX GRID Quadrates enable you to change the light distribution and light spectrum according to the time of the day and people's activity in the room. You will not see dots of lighting sources in the lighting panel even when the intensity of illumination is reduced and so the aesthetic of the space is perfectly maintained.

Delicate lighting effects for outdoor environment
MODS are outdoor lighting devices that blend in with the nature. People find comfort unconsciously in such harmony.
This series of hardware is designed to provide the lighting for dark outdoor environment as exquisite as the indoor lighting.
A selection includes downlight, underground type, wall surface brackets and spotlight with filter lighting® attachment.
ModuleX product safety
We take safety very seriously for our clients to continue enjoy using our products for a long time.
We do not just rely on installation, construction nor the regulations laid down by the industry. We have our own strict safety standards and our products are manufactured accordingly.
Safety mounting

The fixture is tightly fastened for all who perform work.
It is designed to support up to 36 kg, causing no damage to the ceiling.

Safety wire

The fixture has an anti-drop wire in case of emergencies.

International standard

Instead of following ambiguous industry standards, we have established our own standards that are accepted by global industrial markets

Air intake

The fixture promotes air convection in the ceiling to prevent dust from accumulating and causing smoke.

Safety connector

The fixture's wires are all connected via the connectors to prevent contact failure due to faulty installation.
ModuleX's quality standard
Made in TOKYO

All ModuleX lighting products using the finest optical technology are continued to be developed and manufactured at our own factory. (ModuleX factory:Katsushika-ku, Tokyo)

100% inspection

All electric components are inspected prior to the assembly steps.

ModuleX Green technologies

Above all aspects, products are designed with flexibly adjustable features and high durability for long-term use. In addition, we select reusable materials and packages to help reduce the burden on global environment.

Quality assurance

Beyond the industry standards, we offer quality assurance based on engineering evidence found through our own inspection and detailed analysis.