"GINZA SIX" won the Award of Merit in 2018 IES Illumination Awards
sponsored by Illuminating Engineering Society of North America (IES).
IES Illumination Awards are international lighting design awards
sponsored by IES, the renowned authority of the lighting,
and the specialties, ingenuities and originalities of
the lighting designs are evaluated.
The Award of Merit is awarded to the lighting design which
made a substantial contribution in the project.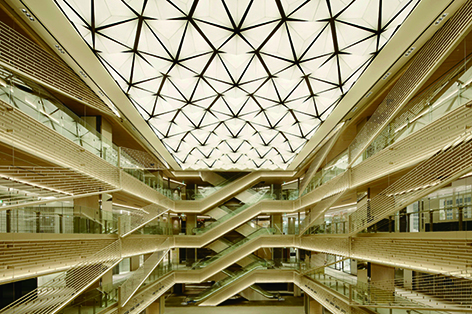 GINZA SIX,located in the exclusive area of Ginza,is Japan's largest and
highest-class commercial retail complex.
In its design,which Japanese traditional culture attributes are brought into the
commercial space,it functions as a new entry way to Ginza.
ModuleX' lighting objective was to realize the concept that light is
spread throughout like a wind. To make the sophisticated interior design stand out,
our lighting successfully provides the necessary illuminance, creating the lighting
atmosphere as if only the indirect lighting is present.
In addition, our LED lighting, which considers both the time sequence and
the patrons movement, can produce the appropriate lighting scenes,
preventing the waste of energy.
The most remarkable lighting space is the stairwell of 16M which is the starting
point of the patrons movement. Our lighting fixtures, consisting of specific
optical technologies to control the glare and the light distribution, enable
long distance focused illumination. . The synergy of lighting function and
indirect lighting contributes to meet both the sales and design requirements
of this high-end retail space.
With consideration to the illumination requirements and the elimination
of unnecessary glare, the appropriate lighting effect is realized in every area.
Project name:GINZA SIX
Interior design:Gwenael Nicolas(CURIOSITY INC.)
Management: GINZA SIX Retail Management Co., Ltd.(Commercial facility)
Photo:Satoshi Shigeta